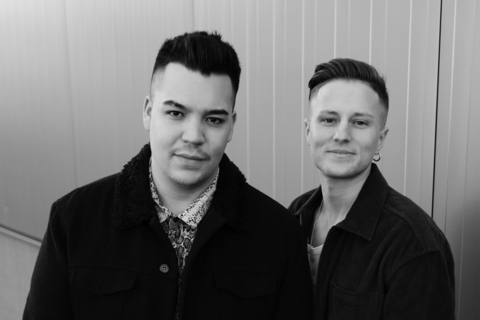 For this duo when it comes to where to do a show, there is not much point to debate over in which room of the party they belong - in techno terms there are the two places; the ones you tend to call either the "big room" or the "main stage". Marco Bläsi and Luigi Urban together make up the DJ and production team SHDW & Obscure Shape. These two relatively young newcomers have in very short time managed to build up a large and loyal following that continuously keeps growing with each year since their start in 2014.
Hailing from Stuttgart, Germany they together run the label From Another Mind that came into existence in 2015 from the party they started one year earlier. Marco (aka SHDW) and Luigi (aka Obscure Shape) decided upon the From Another Mind name when they realised they had a different idea of how they wanted to program a party, and then later on the label. From Another Mind holds four releases from the boys to date. One of the standout releases from the FAM catalogue is the EP titled "Die Weiße Rose", the four tracker 12" was especially well received by critics and audience alike, catapulting Marco and Luigi to the next level of their career. Also worth to mention are the two extensive remix packages based on previous FAM releases that include reworks from for example Rodhad, Tale of Us, Dax J and James Ruskin.
"We have the same vision of techno. We are two people but sometimes we act as one", says Luigi. Marco continues; "It's like a symbiosis". SHDW & Obscure Shape's music is created from an eager music enthusiasts mind, it is techno made for the listener to go bang. The style of the duo's productions has a clear no-nonsense vibe, inspired by a lot of old records they have sourced through the years, mainly from the late 1990's and early 2000's. Hence why they are often dramatic powerful tracks with a lot of melodies that are often trance infused.
When it comes to their DJ sets, they are often described as surprising and energetic. Collecting and sourcing music since their teens, they have evolved into a rather broad taste. They both show off great skill when it comes to combining these varied styles, such as classic Detroit techno, rave, EBM and acid. SHDW & Obscure Shape definitely holds a certain energy when they are on stage, the way they intermix their choices, the surprise of each record, together creating a completely different sound for the following one. The duo is not scared of pushing the boundaries of techno, taking themselves and the crowd to a different level.
The hard work both as DJ's and producers has not gone by unnoticed; already in 2016 Groove Magazin chose them as "Newcomer of the Year", Rekids' boss (and fan) Radio Slave released the "Himmel und Erde" EP in 2017. Previous to that he hired the boys to do a remix of his 2016 track "Vision", the duo has since then also remixed his techno anthem "Grindhouse". Another one who has had his eyes on this production team is stalwart Daniel Avery, whose track "Projector" has received remix magic from Marco and Luigi.